Nov 18 2011
We all know brown rice is healthier for us than white rice.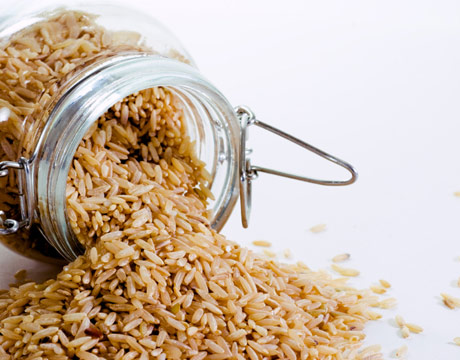 "Our food ranking system qualified brown rice as an excellent source of manganese, and a good source of the minerals selenium and magnesium. The complete milling and polishing that converts brown rice into white rice destroys 67% of the vitamin B3, 80% of the vitamin B1, 90% of the vitamin B6, half of the manganese, half of the phosphorus, 60% of the iron, and all of the dietary fiber and essential fatty acids." Whole Foods
Yup – brown rice has it all – fibre, selenium, manganese, B vitamins, iron, essential fatty acids…but the texture! *bleh!* I hate when it is all wet and clumpy together…maybe I just fail miserably at making brown rice the way recommended on the package? (I really love the nuttier flavour of brown rice, I just never liked the texture as much!)
Well NO MORE! I found this article "Perfect Brown Rice" on Saveur.com, and literally, it makes *perfect* brown rice. Every time. Each grain defined and delicious and NOT soggy/wet/clumpy!
Healthier & more delicious? It's true. And it's easy!
I make a giant pot of this Sundays and store it in the fridge, and then I have enough for Brown Rice Porridge (will post recipe soon!) and/or as a side for dinner/leftovers/whatever!
Perfect Brown Rice (from Saveur.com, instructions altered slightly by Dee)
1 cup of brown rice (or however much you want to make)
about 4 times as much water as rice
salt (to taste)
Rinse rice in strainer for 30 seconds.
Bring water to boil (I don't even measure really, just fill up a pot with lots of water! *lol*)
Add rinsed rice to water. Bring water back to a boil and then turn down to a simmer.
Simmer uncovered for 30 minutes.
Drain rice in strainer for 10 seconds, then put back in pot (REMOVE POT FROM HEAT)!
Cover with tight-fitting lid OR put foil over top of pot (I put foil and then put lid – that has a hole in it – on top of the foil) and let sit for 10 minutes.
Uncover, fluff with fork, sprinkle with salt and do whatever you want to do with it! Mhhm!
And there you have it – perfect brown rice!
Leave a Reply